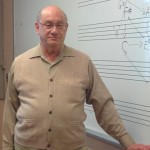 Henry Burnett
Professor Emeritus,  Aaron Copland School of Music
Fields of Study:
Musicology
Degrees and Studies:
PhD, City University of New York
Biographical Information:
17th, 18th, and 19th-century music history, style criticism and theory; traditional Japanese music; licensed master (Natori) of shamisen and koto; articles in Music Theory Spectrum, Perspectives of New Music, International Journal of Musicology, New Grove Dictionary, Asian Music, American Organist, American Choral Review. Founder of the New York Sankyoku-kai Traditional Japanese Music Ensemble. Co-author, along with Roy Nitzberg, of Composition, Chromaticism and the Developmental Process: A New Theory of Tonality (London: Ashgate Publishers Ltd., 2007).
Roy Nitzberg
Lecturer
Fields of Study:
Music Theory
Degrees and Studies:
PhD, City University of New York
Biographical Information:
Roy Nitzberg received his PhD in music theory from the CUNY Graduate Center in 1999; the title of his dissertation was Voice Leading and Chromatic Techniques in Expositions of Selected Symphonies of Joseph Haydn, Introducing a New Theory of Chromatic Analysis. He studied Schenker analysis with Carl Schachter and Charles Burkhart and coauthored a book with QC Professor Henry Burnett titled Chromaticism and the Developmental Process: A New Theory of Tonality. He coedited Hogaku, the journal of the Traditional Japanese Music Society between 1984 and 1989 and was the Associate Director of The Center for Preparatory Studies in Music, a children's music program at Queens College, from 1987 until 1995. Dr. Nitzberg has also taught music theory, ear training and music appreciation at Hunter College and Hofstra University and is the Senior US Correspondent for LabourStart (www.labourstart.org).